"Z" SERIES
FUSION SPICE PROTECTION SLEEVE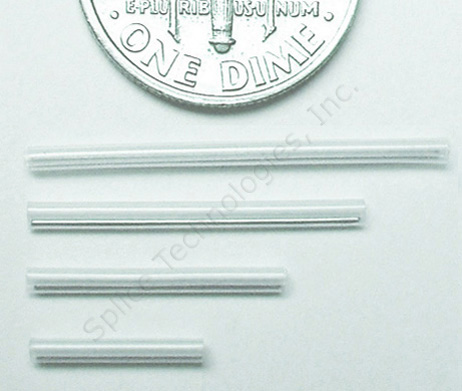 Splice Technologies' "Z"
series is the smallest fusion splice protection sleeve currently offered in the industry, with an after shrink diameter of
1.19mm,
(0.047 inches), and offered in lengths of 10, 15, 20, and 25mm. Designed for use with bare, or up to
450
micron diameter coated fiber, they are ideal for splitter/coupler packaged products, or similar applications where space is limited. This product is constructed with an inner EVA meltable adhesive tube, stainless steel strength member and a polyolefin heat shrink outer tube. The tubes are clear to allow viewing of the fiber during and after splicing. This product has been proportionately downsized using the same core materials, formulations and manufacturing processes that are used in our "Standard" series product. The entire assembly is designed to ensure that all members maintain perfect alignment during shipping, handling and shrinking. We are proud to say that all of our products are made here in the USA and most sleeves are in stock ready for immediate delivery.
Part Number Key
FSS-ZC10 - 10mm length
FSS-ZC15 - 15mm length
FSS-ZC20 - 20mm length
FSS-ZC25 - 25mm length
RoHS & REACH Compliant
Outer tube meets SAE AMS-DTL-23053/5 Class 2
Inner EVA meltable adhesive tube
Close dimensional tolerances
Full length strength member for total fiber support
Open ended assembly minimizing the possibility of air entrapment during shrinkage
Operating Temperature Range -55°C to +110°C
Packaged in 100 per bag