CABLE FIBER SERIES
FUSION SPLICE PROTECTION SLEEVE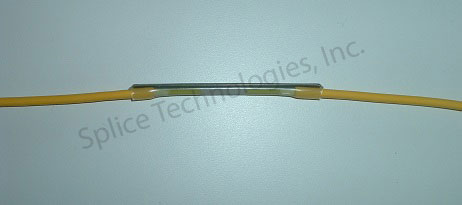 Splice Technologies' "CABLE FIBER"
series fusion splice protection sleeve is designed as an "in-line" approach for fusion splice protection eliminating the need for a splice holder or splice tray. The sleeve is made to fit over up to a 3.0mm diameter cable while fully protecting the fusion spliced area of the fiber. This product is constructed with a heavy wall EVA meltable adhesive inner tube, a polyolefin heat shrink outer tube, and a stainless steel strength member. The tubes are clear to allow viewing the fiber during and after splicing. The overall after shrink diameter is
4.7mm
and available in stock lengths of 32, 40 and 60mm and other lengths with minimum quantity order requirements. The entire assembly is designed to ensure that all members maintain perfect alignment during shipping, handling and shrinking. We are proud to say that all of our products are made here in the
USA
and most sleeves are in stock ready for immediate delivery.
Part Number Key
CFSS-32 - 32mm length
CFSS-40 - 40mm length
CFSS-60 - 60mm length
CFSS-LL - Special length in millimeters
Bellcore GR-1380 Compliant
RoHS & SVHC Compliant
Outer tube meets SAE AMS-DTL-23053/5
Inner EVA meltable adhesive tube
Full length strength member for total fiber support
Close dimensional tolerances
Open ended assembly minimizing the possibility of air entrapment during heat shrinking
Operating Temperature Range -55°C to +110°C
Packaged in 25 per bag