FIBER FURCATION TUBES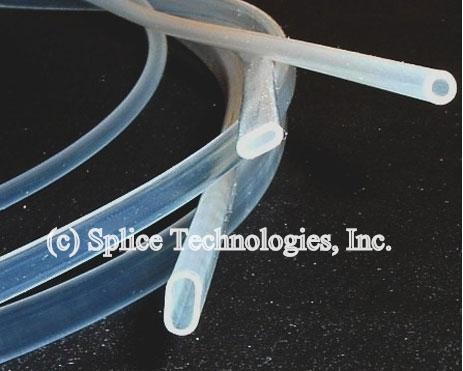 Splice Technologies' "FIBER FURCATION TUBES"
are used when additional fiber protection is required particularly inside fiber enclosures where service technicians may frequently visit. They are currently available in three profiles; one for Single fiber and two for Ribbon fiber. These tubes are extruded in four foot lengths and are clear to allow full viewing of the fiber. They are all designed with a heavy wall thickness and a proprietary material formulation that allows ease of fiber bending and managing without kinking. We are proud to say that all of our products are made here in the
USA,
and most sleeves are in stock ready for immediate delivery.
Part Number Key
FFT-04 - Single Fiber Furcation Tube
RFT-04 - Ribbon Fiber Furcation Tube
RCT-04 - Ribbon Cable Furcation Tube
RoHS & SVHC Compliant
Clear four foot lengths
Packaged in 10 per bag