QUAD FIBER SERIES
FUSION SPLICE PROTECTION SLEEVE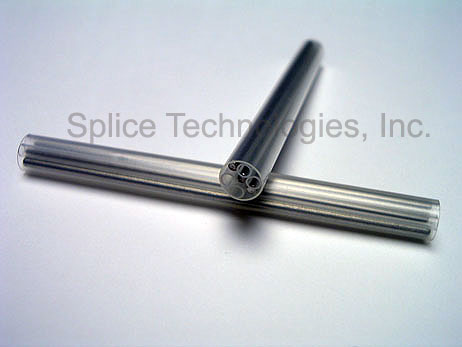 Splice Technologies' "QUAD FIBER"
series fusion splice protection sleeve provides individual conduits for four fibers in one sleeve. Our model numbers QFSS-SC40 & QFSS-SC60 are 40 & 60 millimeters long respectively, and designed to accommodate up to four
1.2mm
diameter fibers, with an after-shrink diameter of
4.7mm,
(.185 inches). These products are constructed with four EVA meltable adhesive inner tubes, one polyolefin heat shrink outer tube, and three stainless steel strength members. The tubes are clear to allow viewing of the fiber during and after splicing. This product has been proportionately modified using the same core materials, formulations and manufacturing processes that are used in our "Standard" series product. The entire assembly is designed to ensure that all members maintain perfect alignment during shipping, handling and shrinking. We are proud to say that all of our products are made here in the
USA
and most sleeves are in stock ready for immediate delivery.
Part Number Key
QFSS-SC40 - 40mm length
QFSS-SC60 - 60mm length
RoHS & REACH Compliant
Outer tube meets SAE AMS-DTL-23053/5 Class 2
Four inner EVA meltable adhesive tubes
Three full length strength members for total fiber support
Close dimensional tolerances
Open ended assembly minimizing the possibility of air entrapment during heat shrinking
Operating Temperature Range -55°C to +110°C
Packaged in 25 per bag