HIGH TEMPERATURE SERIES
SINGLE FIBER DIELECTRIC
FUSION SPLICE PROTECTION SLEEVE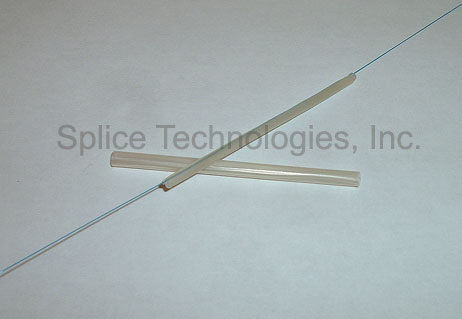 Splice Technologies' "High Temperature"
series single fiber
Dielectric
fusion splice protection sleeve is designed to work in elevated temperature environments well beyond the temperature range of conventional splice protectors, and where non-conductive materials are required. These sleeves have been developed for use in
"downhole"
Oil and Gas industry applications where continuous operating temperature resistance of
160°C
is required. They also encompass outstanding abrasion and cut-through protection, high dielectric strength, and are highly resistant to most industrial fuels. Stock lengths are 40 and 60mm with an after shrink diameter of
2.6mm
and will accommodate fiber diameters up to
1.4mm
. This product is constructed with an inner meltable adhesive tube, clear quartz strength member and a heat shrink outer tube. The entire assembly is clear to allow viewing of the fiber during and after splicing. We are proud to say that all of our products are made here in the
USA,
and most sleeves are in stock ready for immediate delivery.
Part Number Key
FSS-SHQD40 - 40mm length
FSS-SHQD60 - 60mm length